Having your dress shirts tailor made should be the default choice for the modern man. Regardless of the occasion - formal or informal, luxury or essential - you will always look better in made to measure. And every man should at least own one tailor made suit. When you wear a suit, you do it to look your best. Don't compromise with yourself. Here's how you do it.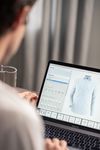 How to measure yourself
We know that odd sizes are one of the many reasons our customers come to us. If you're a big and tall person with a large neck width, you most likely have gone through the pain of trying out dress shirts only to find they fit well in one end but not in the other. They'll fit around your neck only to have too long arms, or they'll fit around your waist only to leave too much space and unwanted fabric around your shoulders.
The same goes for the slim and tall - either the dress shirt will fit around your chest, but will then be too short to tuck in your pants.
Broad shoulders, wide or narrow neck, long or short arms does not matter to us. At Tailor Store there is only one size - yours. We are an online tailor who simply wants you to look your best. Regardless if you are big and tall, small and slim or any other combination of the above.
That is the true benefit of wearing tailor-made dress shirts - there are no sizes too big or too small. Everything fits just right.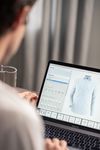 The below guides will get you through the process of getting your measurements done
With Tailor Store, you have several ways to create a take your measurements. For the ones who prefer the measuring tape, we have set up a step-by-step guide below. If you like to use a dress shirt you like as the basis, you just need a measuring tape and your (so far) best fitting dress shirt ready.
To take your own body measurements, you just need yourself and a measuring tape. You could possibly also have the use of a helper to assist in holding the tape for you. At any time you can save your progress to continue later.
Get your measurements
---